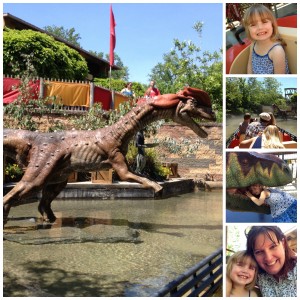 Zoe and I ventured out to Dinosaur Island at the Columbus Zoo this week and absolutely loved the experience. We will definitely be returning for another visit or two before summer's over!
If you're a regular at the Columbus Zoo, you know the Islands boat ride, way up at the top of the zoo in the Australia and the Islands section, is a longtime hidden gem. I'm always amazed by how many people don't even know about the little boat ride at the zoo! Well, not for long.
This quaint little boat ride has received quite a makeover to become the zoo's biggest attraction for summer 2013, starring dozens of life-size animatronic dinosaurs who roar, move and yes – even spit water at you. It is fun for kids of all ages and I include myself in that number. Zoe was a little nervous it would be scary, but it wasn't at all – just very fun!
If you trek all the way up through the zoo to the Australia and the Islands section, kudos to you – it's quite a haul (1,213 steps to be exact!). The path to Dinosaur Island is nicely marked with signs and giant dinosaur eggs along the way, and when you get there a new "Extinction Research Center" booth tells you you've made it. Tickets are $2 each for zoo members, $3 for non-members. Note that each child under 42 inches will need an accompanying adult; good info to know before you go.
Don't be alarmed by the sign that says "15 minute wait time from here" because they've done a great, Disney-esque job of incorporating animatronic dinosaurs into the wait so even little kiddos will be entertained. In fact, some of Zoe's favorite dinos – a nest full of moving, chirping, hatching babies – were seen during the wait time in line. There's also a very cool, close to life-size T-Rex in the waiting area that's perfect for photo opps (speaking of photo opps, there's also a very Disney-esque green screen paid photo opp while you're in line, but we skipped this).
Once you're on the boat ride, it's pure joy. I won't give too much detail to spoil any surprises, but be prepared to get a little wet and remember – the dinosaurs only spit water at the people they like the most! At least, that's what the zoo staffers told us.
I wasn't sure how Columbus Zoo would top last summer's showstopper addition, Stingray Bay, but they've added another wonderful treat this year in the form of Dinosaur Island. If you go, let me know what you and your little ones thought? We can't wait to go back!
Also, what's your new favorite summer fun activity for 2013? We're always looking for ideas.