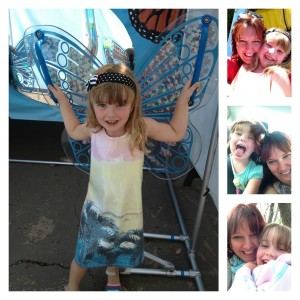 Each year of Zoe's life thus far has seemed like the BIGGEST year yet, with the MOST dramatic changes for her.
From infant to sitting-up baby to crawling maniac to toddler, then from babbler to nonstop talker, and on up to almost-reading preschooler.
Now she's evolving before our eyes from preschooler to a school-ager who can READ, and I can't help wondering when I'll stop feeling this amazed and blown away by it all.
I love this mom's take on the phenomenon of watching our children grow and evolve into independent creatures:  it's like staring into the sun. So brilliantly beautiful, yet almost too painful to bear!
For sure, 2014 has been a year of huge transitions for us. When this year began, Zoe was still nursing and sleeping in our bed with us. We all knew we needed to make some changes, but at times it seemed insurmountable.
Then suddenly, she was ready – she pretty much self-weaned, transitioned out of our bed, and then decided that she wanted to sleep on her own in her own room across the hall. Just like that!
Now, we've got a "normal" bedtime routine a lot like other families with nearly school-age kids. We've even done a few sleepovers with her cousins – and one at a friend's house. Suddenly, before I even knew what was happening, she turned into a big girl!
That said, I'm happy we've held onto some important family habits and rituals that retain the fond flavor and tender tone of our super-connected, always-attached early years.
We have snuggle time every morning where she climbs into bed with us around 7 am – seven days a week – and we cuddle and snooze and tickle and enjoy being physically close to each other.
Sometimes we play "the baby game" – Zoe describes a scenario and we act it out, always starring Zoe as our long-awaited and oft-longed-for baby. Other times, we play "the animals game" – Zoe picks her favorite animal du jour and tells us "today we're weasels – you're a mama weasel, I'm a baby weasel!" and we snuggle together the way we imagine those adorable cuddly animals do in their warm, weasel burrows.
I think this is what attachment parenting looks like with preschoolers or school-age kids. We find our own way, trying to hold onto the closeness while at the same time letting go and watching them fly.
And it's not just in the mornings. At night, one of us usually lies down with Zoe at bedtime, after lights-out, to help ease her transition to sleep.
We tried not to do this at first – in fact, we resisted it solely because we didn't think we "should" – but now I think we've relaxed a bit.
I find that she will tell me things in the dark, lying there beside each other as she's quieting herself and settling down to sleep, that she hasn't told me in the light of day. She will share memories, thoughts, feelings or fears that are new to me. If I wasn't lying there in the dark beside her, would I ever hear those innermost secrets and questions and concerns? I cherish this quiet time, listening to her breathing slow down, feeling her snuggle into her most comfortable sleeping position.
Some nights she'll actually dismiss me – "Okay Mommy, I'm going to sleep now, you can go sleep in your bed." Other nights, I wait and sneak away after she's asleep.
I do love that time though – and how long will she even want us there in her room with her, lying beside her on that girlish bed? How soon will she be closing the door to keep us out, cherishing her privacy more than her closeness with us?
I know it will come all too soon. I'm fine with lying beside her for these few evenings to cherish the fresh-from-the-bath scent of her and hear her musings in the dark.
It's all going so, so fast. People said that it would – I knew that it would – but oh, wow. The reality is dizzying.
How do you stay close to your own children during the tumultuous changes of childhood? As always, I'd love to hear in the comments below.