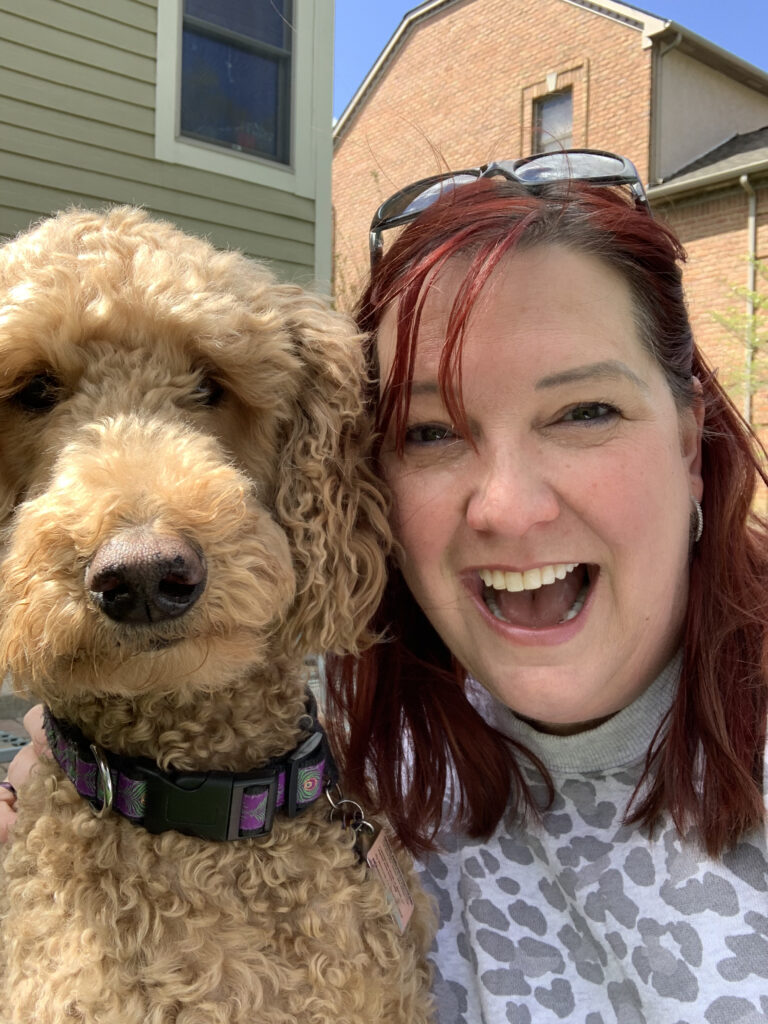 I am heartbroken to share that, although we had a perfectly wonderful Christmas at home together with our happy and seemingly healthy pets, our little family ended 2020 awash with grief and loss.
Three days after Christmas, our beloved 9-year-old Goldendoodle, Autumn, began acting very unlike herself. She was lethargic, hid from us to rest and when we called her, seemed unable to get up and come to us.
It was late Monday night when I started having a gut feeling that something could be really wrong. By then, Autumn was resting peacefully and comfortably on the couch with us. I crowdsourced for opinions on Facebook and decided to take her to our vet the next morning.
Tuesday dawned and Autumn seemed a bit more like herself. She was responsive, affectionate and even went outside for a short run in the cold. When she came in, she sat like a lady for treats and even begged for more. All seemed okay – but I took her to the vet anyway for a 10:30 am appointment just to be sure.
Our sweet, beloved Autumn never came home again.
She was diagnosed with probable hemangiosarcoma. Our vet said the prognosis was pretty bad – but that emergency splenectomy surgery might help her. We agreed we wanted to try anything we could, so we left Autumn at the vet to be prepared for surgery.
Before I left her there, I spent several minutes with her in the backseat of my car, crying into her soft fur. She licked my face and seemed confused, and gave me strong signals that she wanted to go home. I hugged her, kissed her and reluctantly handed her back over to our vet for the operation.
Hours later, we got the call that Autumn's condition was worse than they had initially thought and that, because her tumor was on her liver and not the spleen, it was not something our vet could remove after all. They recommended we rush her to MedVet animal hospital so a specialist could do the surgery instead. It would be more expensive, they said, and require a multi-day hospital stay, but it was Autumn's only chance at survival.
We were devastated. We raced to our vet, where a drugged-up Autumn was carried out to our car and laid gently on a blanket. I sat with her in the back seat and both Z and I stroked her and spoke to her as E drove.
Autumn was post-op with a brutal incision, an uncomfortable "cone of shame" and an IV in her front leg. She was out of it; so groggy she barely knew we were there, but she did let us know she hated the cone. We held back our tears, trying to stay strong and comfort her.
We rushed her to MedVet where they took her in immediately on a gurney and assured us they would triage her and call us soon. It was very busy at MedVet – it feels similar to a human hospital, brusque and efficient. Z and I shook and cried in the car, waiting for a call and holding onto hope. We still somehow felt that she would be okay – it seemed impossible to even consider the alternative.
While we waited, I asked my husband and daughter if we had done the right thing. Should we have allowed them to operate on Autumn, not once but twice? If only we could have taken her home and given her a few more peaceful days with us – she had seemed so much better that morning!
We tearfully realized, and admitted out loud to each other, that we didn't think Autumn would want more surgery or time in an animal hospital. She would want to be home with us, or she would want to go peacefully to sleep. With this realization, I picked up the phone to call MedVet and let them know we wanted to come back for Autumn or arrange for euthanasia.
At that moment, my phone rang in my hand. It was the MedVet emergency doctor. He shared that Autumn's condition was worsening and that her cancer was inoperable.
He said that even if they attempted surgery AND gave her chemotherapy after that, she would have at most 30 to 90 days with not much quality of life. He then said there was a good chance she wouldn't even survive the surgery because her heart was already having issues from all the internal bleeding.
I choked back sobs and told him we wanted to come in to be with Autumn while she was euthanized. Dr. Maderia agreed it was the right and compassionate decision.
Z and I sobbed all the way back to MedVet – thank God for E who drove us and was our rock. Only two people could go in due to COVID, and E was selflessly willing to stay in the car. Z and I went inside, held and hugged our beloved Autumn, and said our final goodbyes while we told her how much we love her and what a good girl she is.
Best of dogs and best of companions
Our Autumn was so strong, happy, beautiful and full of life. She had the regal bearing, high sensitivity and intelligence of her standard poodle father, combined with the warm, sunny disposition and affectionate nature of her Goldendoodle mother.
Autumn was the best dog ever, not just in our biased opinion but also according to everyone who met her. Autumn loved everyone and everyone loved Autumn; that was just who she was. Our Zoe grew up with Autumn at her side; she loved kids, but most of all she adored her sissy Zoe.
Selfishly, Autumn was my dog just a hair more than she was Z's. Autumn knew that she was my special girl, and that I was her person. I felt like the luckiest dog mom in the world to be worthy of her love.
Our little family spent all of 2020 together at home with Autumn and Dani. In the dogs' eyes, it was their favorite and best year ever. We had more time for walks, hikes, car rides, trips together, dips through the Starbucks drive-through for Puppacinos and romps at the dam. We even took them on a getaway to Kelley's Island this summer – they became golf cart dogs, and Autumn adored it.
Autumn left this life on a high note, aside from her last two days. She was richly celebrated on her birthday in November, with gifts and trips to the pet store and runs in the woods. She had a blissfully happy Christmas with us, with a fire in the fireplace and fun in the snow and treats in her stocking.
It is so unfair that our time with Autumn was so cruelly cut short – but even double that number of years wouldn't have been enough. I am happy she will never know pain, fear or the indignities of growing old. She will always be young, strong and healthy in our memories.
Autumn knew only happiness, love and comfort all the days of her life. She was a pure, bright shining light to our family and I know her spirit will always be with us. My heart feels shattered and I don't know how I will ever feel whole without her, but we are trying to be strong for Z, for our other animals and for Autumn.
Autumn would not want us to be sad or mourn her. She was all about life, fun and happiness. She loved to dress up, give hugs, pose for pictures and be social. She loved to dance with us and play outside in the sunshine. We will honor her memory every day and I pray that, in time, we'll be comforted by our happy memories.
Rest, dear Autumn – my darling, sweet girl – and I hope with all my heart that we'll hug you again on the Rainbow Bridge someday.