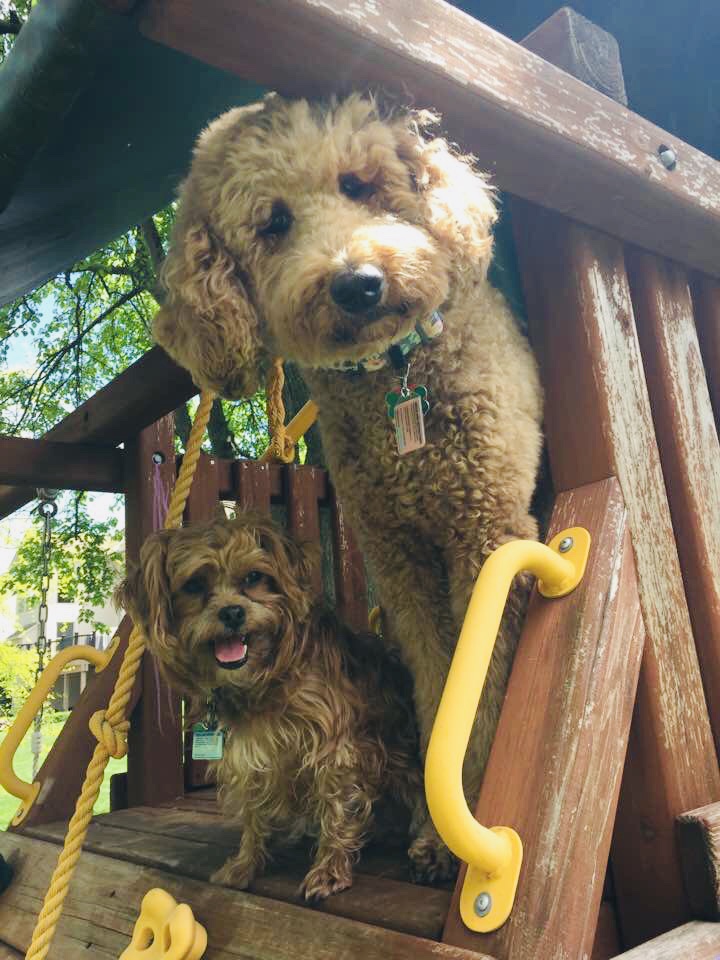 Losing our beloved dog Autumn unexpectedly in December wasn't just heartbreaking for the human members of our family.
Our little dog Dani, adopted by us in 2016, has taken her big sister's loss particularly hard.
In the days after Autumn vanished from our lives, Dani moped, didn't eat much and didn't want to spend as much time outside.
To little Dani, the world must seem a far bigger, harsher and emptier place without her big sister, best friend, leader, protector and playmate.
From the moment we brought Dani home, Autumn was her constant companion. The two took to each other right away and never had a single moment of unpleasantness between them. We know how lucky we were that they instantly bonded!
Whenever we humans left the house for school, work, outings, errands or even trips, Autumn and Dani kept each other company. They played together, ate together, went outside to do their business together and even slept side by side.
Since Autumn left our house on December 29 and never came home, we knew Dani would be confused. We had wrapped Autumn in a familiar, soft blanket with her favorite toy twice that day – once after her surgery on the way to the animal hospital, and again for our final cuddle session with her when she drifted off to sleep one last time.
We brought that blanket and toy home for Dani to sniff and snuggle with. We let our cat, Galaxy, smell them too, so she would have a better understanding of what happened to Autumn.
We also gave Dani a good sniff of Autumn's collar and leash, both used when we left the house that final morning. Dani gets very excited anytime we say Autumn's name or give her any of Autumn's toys or belongings to sniff.
Beyond that, we have simply tried to give Dani and Galaxy lots of attention and affection. Zoe has established a new habit of giving Dani a treat, then telling her "this one is for Autumn!" and giving that treat to her as well. This way, maybe we are creating new positive associations with Autumn's name.
We are also trying to create new happy memories as a family with just one small dog, like taking Dani with us more places since she is small and easily carried. I don't know if it's too late in Dani's life for her to learn to be a purse pet, but we might actually give that a try.
Lastly, we have already taken Dani out to Starbucks for a puppacino for one, just to begin establishing the routine of going in the car for fun trips on her own. She used to love going in the car with Autumn, but now she must be brave and go on adventures with us on her own.
Going outside all alone is still hard for her, so I have been going with her every time and staying close. We can tell she misses Autumn most anytime she is unsure or afraid. We will do our best to keep our little Dani close and comfort her as much as we can in the coming days and weeks.
I'm sure that in time, her natural bravery will come back and she will realize that she can stand on her own just as she did in her early years before she came to live with us and Autumn.
We are so happy the two sisters had four and a half wonderful years together, memorialized for all time on their joint @autumnanddani Instagram account. We're pleased to see Dani and Galaxy beginning to bond more now that there's just the two of them.
We're also very glad that we have Dani and Galaxy, because the loss of Autumn is made more bearable by their sweet, loving companionship. It turns out that helping Dani get over the loss of her sister is also helping us, in turn.
Have you lost a furry family member and had to help a surviving pet heal from the loss? I'd be glad to hear any advice or tips you have in the comments below or over on Facebook.