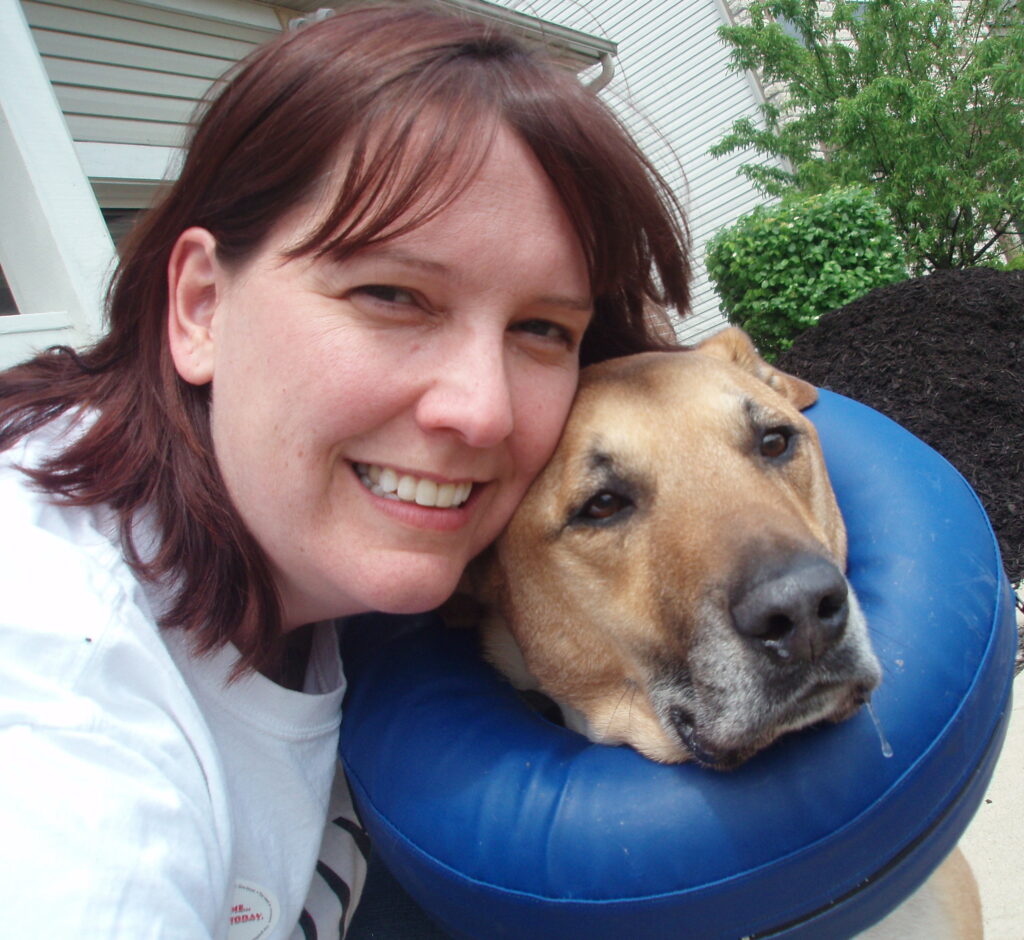 Using social media to affect positive change is a subject that is near and dear to my heart.
Some of you may have heard or read our stories about Jack the dog and his legendary health struggles. Jack has basically become a legend.
That unforgettable part of our life was back in the days before we had Zoe. Jack was our special needs pre-kid.
When our beloved Dookie boy was stricken with a rare and hard-to-diagnose chronic illness late in 2008, I found out everything I could through online resources – a dedicated Yahoogroup, a few Youtube videos and the odd blog post. We were less than happy with our veterinarian's lack of knowledge but found the answers we needed through social media.
Once we had cobbled together resources and taught ourselves how to manage Jack's condition, I created an online community for other families and caregivers of dogs with this disease. I wanted to make it easier for the next person whose dog was diagnosed with Megaesophagus (ME).
On the new ME dogs community (which unfortunately went away once Ning started charging for their service), I tried to consolidate all the other great canine ME resources I could find online. It was my way of giving back to the folks who had helped us find hope in Jack's diagnosis – all the people who said do NOT euthanize him, despite what the vets may say about his condition being hard to manage.
Little did we know, Jack's health struggles were just beginning. We managed his ME condition well and had a few good, relatively symptom-free months over the winter. Then, in the spring of 2009, things got really tough.
Jack's ME symptoms returned with a vengeance in late April, accompanied by even more disturbing neuromuscular signs. We knew there must be specialists in our area, but we didn't know where to turn for a definitive diagnosis.
On May 5, I sent out a desperate cry to the Twittersphere and was rewarded with dozens of responses recommending the OSU Veterinary Medical Center. Our search for the best vet care was over.
Jack spent the next day at OSU having many tests and a neurology consult, and by evening we had our answers. It wasn't good news, but at least we knew: his ME was caused by an underlying neuromuscular disorder known as Myasthenia Gravis or MG. That, in turn, was caused by a rare form of cancer called a thymoma.
Reading a brochure or website about an illness is one thing, but conversing and chatting with other people going through the same struggle can be literally life-saving. How many dogs' lives can be saved through their caregivers having the right information – including access to other families who have traveled that rough path before them?
The thymoma diagnosis was not an easy one to hear. It's hard to put an innocent animal through a huge surgery! We thought seriously about euthanasia – but after talking to the surgeon at OSU and several families in the ME Yahoogroup whose dogs had come through the surgery and recovered well, we decided to forge ahead.
On May 13, Jack had radical thymoma removal surgery known as thymectomy or thoracotomy. About as hardcore as it gets, this surgery involved sawing through his sternum and cracking his ribs wide open in order to reach the tiny tumor hiding malevolently beneath his heart and lungs.
Despite the potential for many risks due to Jack's ME, it all went well. His cancer was encapsulated (in other words, had not metastasized) and Jack made it through anesthesia without any problems. Needless to say, all of this cost more than my first car – but he was our baby.
Within a day we were able to visit Jack at OSU, and within another day he was well enough to come home – wicked twelve-inch incision, 36 surgical staples and all.
We spent the next 10 days monitoring him closely, working from home and giving him four different medications plus pain pills, and watching his every move. After that, I went back to the office but continued to visit Jack at lunch to be sure he was okay. As we neared the two-week mark, Jack seemed to get stronger and healthier every day. We were thrilled with his recovery and lack of symptoms!
But then, literally two weeks and a day after his surgery, Jack regurgitated and aspirated saliva or stomach contents during the day while we were at work. When we returned home, he was lethargic and gasping for breath.
We rushed him back down to OSU where he received a diagnosis of aspiration pneumonia (AP). We could not believe Jack had come so far only to fight for his life once more. The vets told us he may not make it through the night; his blood oxygen level was down to 50% which is considered critical. We went home feeling devastated but holding out hope that our Dookie boy would rally once again.
Sure enough, Jack once again amazed the vets, staff and students at OSU when he responded like a champ to nasal oxygen, IV antibiotics and fluids. Within just a few days in OSU's critical care unit, Jack was ready to come home again.
We spent the rest of that spring and summer of 2009 taking the very best care of our good boy. He made a full recovery from the surgery and pneumonia – and from his ME and MG symptoms as well. Here's a video I made to celebrate Jack's victory over ME, MG, cancer and pneumonia (trigger warning: it includes close-ups of Jack's remarkable incision and surgical staples).
Until his unrelated death several years later, Jack continued to blow our minds with his strong spirit, positive attitude and joyful nature despite all the hardships he had to face.
Clearly, it's not just social media that saved my dog's life – it's also the surgeons, specialists, veterinarians and students at the OSU Veterinary Medical Center.
However, it was social media that led us there, and it was through connections we made via social media that we gained the knowledge and hope we needed to keep fighting along with Jack. I have to say that the kind words and positive thoughts we received through Twitter and Facebook also helped make the long process more endurable for me, as well.
Jack's health journey was not over yet. He was one tough dog and endured an additional diagnosis, Addison's disease, before he left us in April of 2011.
But he didn't leave us alone. After getting through Jack's surgery and recovery, we found out we were pregnant with Zoe. Good old Jack lived long enough to become a cherished big brother to our sweet girl. Being her very first dog, and having a baby sister of his very own, was his favorite role of his entire lifetime.
If you're one of the dog lovers who helped Jack and our family through his epic health journey all those years ago, thanks from the bottom of our hearts.
And if you're someone with a dog struggling from megaesophagus, myasthenia gravis, thymoma or Addison's disease, please know that there is hope and there can be brighter days ahead!