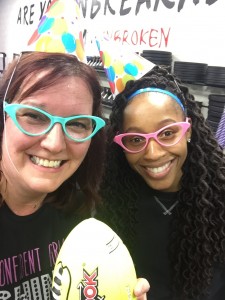 This week, I celebrate the successful completion of three months at Rock N Shock Fitness, the gym and workout program and health/fitness lifestyle approach that is changing women's lives. Changing MY life!
I am so grateful to Master Breaker Danielle Miranda for three incredible months so far! I've dropped inches, gained strength and endurance, improved my metabolism and feel AMAZING! 
On Tuesday, I went in for my three-month testing. I knew what to expect this time from the metabolism (RMR) and fitness (VO2Max) tests, but breathing through a small plastic tube is never fun. I rocked it to the best of my ability, though – and felt good while Rebecca was taking my pictures and measurements. I felt confident my results would show – I know I'm feeling slimmer, stronger and fitter every day!
Still, I anxiously awaited my meeting with Master Breaker to go over my results. I know I've been working hard, but has it been hard enough to meet her expectations? She gives us 110% of her all – and I know I give that much during the workout classes, but can I truly say that I am I giving back that much outside of the gym? I know my eating hasn't been perfect. I had some worries. I do NOT want to disappoint her or let her down!
Today was the big day – I went in for my consultation with Master Breaker to find out how I'm doing. GREAT news – my measurements are down across the board, I've sped up my metabolism, my photos show improvements and she was pleased with my progress so far! We talked about all that I need to do to keep going strong and see even stronger results in the next three months.
We set three goals for me over the next three months: to lose 15 lbs, to test into the next level up in RNS classes (1-1-1) and to continue working on my cardiovascular fitness.
I'm thrilled with how my first three months at RNS have gone, and I cannot wait to see what I'm able to accomplish over the next three months!
If you're wondering about the goofy picture – this is Master Breaker and I after she made me do an entire tough workout wearing a birthday hat and big colorful glasses! We also played "catch" with a football for my warmup – and for every time I dropped or missed the ball, I had to do jumping jacks. Yes, if you work hard at RNS, you will definitely get to see the fun and wacky side of Danielle! I've never known a more creative, dedicated or inspiring trainer.
If you're on a health and fitness journey too, when did you first start to see big results? I'm eager to hear your stories and inspiration in the comments below or over on Facebook.