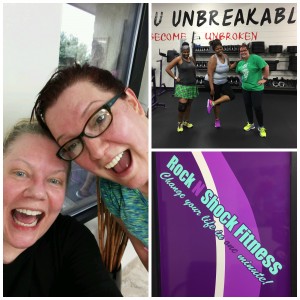 Today was a big day for me at Rock N Shock Fitness! After working out at the 30-30-30 class level for eight months, this morning I tested out and into the next level up, 1-1-1.
I am so proud, happy and excited to have accomplished this – and best of all, I tested out with all of the ladies with whom I've been working out for months. It was a fabulous shared success. Congrats to all my 30-30-30 girls who are now 1-1-1!
One of the coolest things for me is that I was able to keep up with – and test out with – my cohort even though I had knee surgery and several months of recovery thrown into the mix. When I had to take six weeks off from working out, I thought for sure I would fall behind my classmates and have to test out later, but it all worked out perfectly. I am really proud that I was able to get right back into intense workouts and not miss the opportunity to move up to the next level!
I am thankful for all the hard workouts I've put in, all the times when I've cancelled a workout to give my knee an extra day of rest between classes, and all the times when I've sweated it out at Physical Therapy to get my knee back in tip-top shape. All of that combined to get me to where I am today and to my new RNS class level of 1:1:1. I can't wait to get my official shirt and wear it proudly in my new – much harder – classes!
Thanks to all the ladies of RNS who inspire me, sweat with me and motivate me on a daily basis! And most of all, thanks to Master Breaker Danielle and Breaker Chelsie who are the best trainers and coaches anyone could ever ask for. I look forward to many more challenges, tough classes and milestones ahead!