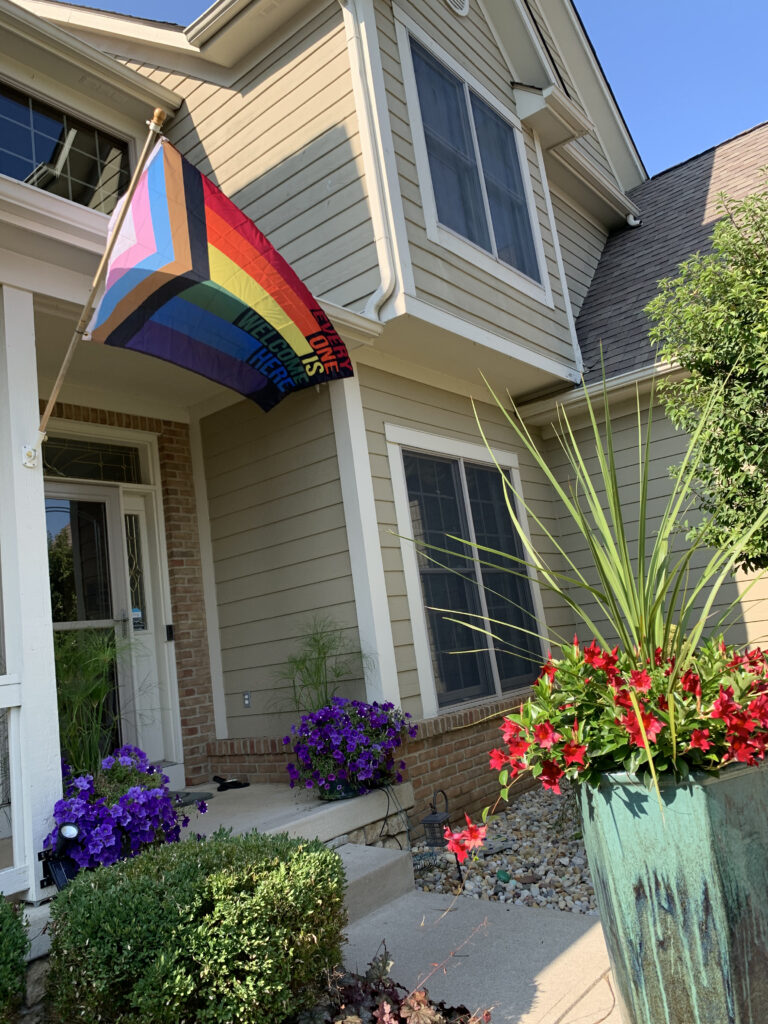 We hung a colorful new welcome flag outside our house recently. It makes me so happy.
It's the progressive Pride flag with the addition of four little words:
Everyone is welcome here.
I just love it. It conveys everything I want a welcome flag to convey: that we're a family who supports and stands for the LGBTQIA+ community, that we are welcoming and that we are a family of love not fear.
Plus, the joyful rainbow colors just cheer me up every time I see them.
I love that we're showing strong support, not just for our gay and nonbinary child but for everyone in our neighborhood who is in the LGBTQIA+ family – and for anyone who visits our home.
Even more broad than that, "everyone is welcome here" is a mantra I would like to live up to for this blog.
You see, even though I have the best intentions and want to always be kind and spread love, I've been guilty of getting quite negative on this blog from time to time.
Yes, I've been hard on my haters. But as someone said to me recently, if I hate my haters back then doesn't that make me a hater, too?
Not all Christians
Recently I was approached by a friend who felt I have been too hard on Christians in past posts. She wanted to be sure I know that some Christians are welcoming and loving to LGBTQIA+ brothers and sisters.
As if to cement her message, the next time that I watched Queer Eye on Netflix, the episode was dedicated to a gay Lutheran pastor who is ministering to others in the LGBTQIA+ community where he lives.
Point well taken! I must be careful not to make generalizations and to give open-minded, open-hearted Christians the benefit of the doubt. I want everyone to feel welcome here.
Some of my favorite Christian leaders, thinkers and writers include John Pavlovitz, an American Unitarian pastor, and Chris Kratzer, a former Evangelical pastor who is now LGBTQIA+ affirming. If you know of other progressive Christian voices I should read or follow – especially any women or people of color – please let me know.
Concerned Olentangy
That said, the other group who has found fault with my blog are the "concerned conservatives" of Olentangy. I've been admittedly hard on this group of individuals. I've called them out in multiple blog posts.
I know they share my posts because I get a ton of traffic on the blog anytime I write about them or the issues they're concerned about. I've joked on my Facebook page, thanking my "haters" for all the SEO benefits and increased blog traffic.
I get angry, upset blog comments from those folks – some of which would qualify as hate comments – but I never let them go through because no one has a right to spew hate on this blog. Including me.
Here's the thing about the secretive group known as "Concerned Olentangy" (their Facebook group is set to "private" to protect their identities): it's made up of people who are likely our neighbors or even acquaintances. I'm sure that if and when our paths cross out there in daily life, we'd get along just fine. I'm sure if we really tried, we could find things we have in common.
Don't believe me? How about this: do you love dogs like I do? Do you love your kids as much as I love mine? Do you believe in true love? Are you worried about your parents getting older? Do you love going on family vacations?
That's at least five things that I'll bet we have in common – maybe not all of them, but at least a few.
And that's what I'm going to try to focus on from now on. I'll still blog about concerns I have with the leadership at Olentangy Schools – like that we're going back this fall with masks optional, even though most sixth-grade and younger kids are not vaccinated and the CDC says they're dangerously at risk for catching and spreading the new Delta variant of Covid.
I know for a fact I'll still blog about issues related to racial inequity, systemic racism, LGBTQIA+ rights and parenting trans and nonbinary kiddos. These issues are intertwined with my heart and super important to me. I couldn't keep my mouth shut about them if I tried.
But I will try to come at these issues from a place of love, empathy and kindness. I'll be sure to remember that the "concerned Olentangy" folks love their kids, too – and most likely love their dogs, friends, neighbors, parents and beach vacations, just like I do.
After all, I started this blog to share knowledge and experiences about parenting, especially new mom topics like breastfeeding, attachment parenting and more. Did I want to share that information just with people who think like me, or with everyone? Of course I wanted to share it with everyone.
Honestly, regardless of political viewpoints, we all probably have more in common than we have differences, if we stop and think about it with open hearts and minds. I'd like to do that moving forward.
Won't you join me?