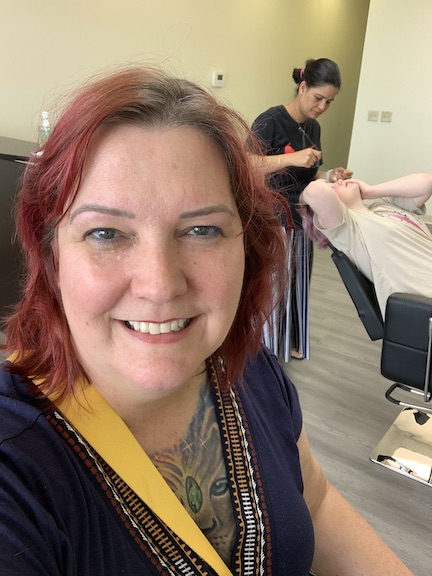 Have you ever heard of threading?
Threading is an ancient form of hair removal that is very popular in certain parts of the world, but is slightly less well-known in the US.
I have been getting my brows threaded instead of waxed since 2018. That's when a friend introduced me to this Eastern method of hair removal, and I've never looked back.
Ever since getting my brows microbladed back in 2019, keeping them maintained and looking sharp has been especially important to me.
Threading is performed by skilled technicians who use a new, clean cotton thread to kind of "saw" or pluck the hairs from your brows or another body part. It can be a bit painful, like waxing, but Z and I both prefer threading.
We like threading better than waxing for multiple reasons, including:
more precise results
lasts a bit longer
costs a lot less than waxing and
I was initially attracted to threading for the low price, but I kept coming back due to the high quality services and great people.
We've been very happy with the different local threading salons we've tried. Now, there's a brand new threading salon called Angel Threading at 491 Lazelle Rd, just off Polaris Parkway.
The shop is owned by two local moms who are originally from Nepal. They are both sweet, friendly and great at what they do. I always love supporting women- and minority-owned small businesses!
In addition to brow services, the Angel Threading ladies also offer a full complement of aesthetic services including facials, eyelash tinting and lifts, waxing and henna tattoos.
Z has long, beautiful lashes and is always looking for ways to enhance them. She has wanted to get a lash lift for some time, but it's usually quite pricey. Right now, for their grand opening, Angel Threading is offering 30% off all services. Z had some money put aside from selling some of her collectibles, so she opted to get a lash lift!
I tried getting a lash lift once myself, but since my lashes are fairly short, the results weren't too dramatic. The lash lift process looks pretty crazy as they have to wrap your lashes around a mini curling rod – it's basically like a tiny perm for your eyelashes!
Z sat very patiently as the ladies did their magic. The results were amazing! Z is so happy with her new curled lashes and they look spectacular.
If you're in the Polaris area, definitely visit Angel Threading to make your brows and lashes pop! Maybe we'll see you there. And remember, brow threading is just $8 and all other services are 30% off right now, so there's no better time to go.
Have you had your eyebrows threaded, and did you prefer the results over waxing? I'd love to hear your brow tales in the comments below or over on Instagram or Facebook.