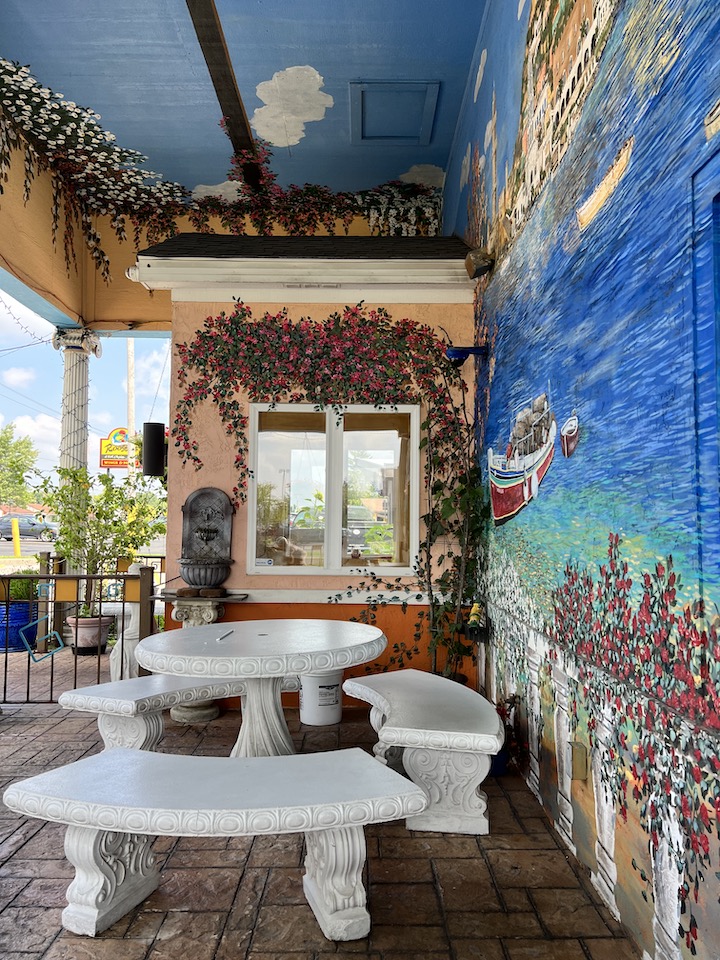 I've told you before that I love food from sunny climes.
Greece has been on my travel wish list for years. I've wanted to return to the Greek Isles since my one and only trip there when I was 7. I love Greek food and sunshine so it's a no-brainer for me.
E and I almost got married there, but pivoted to the Turks and Caicos islands instead. No regrets. We'll get to Greece someday.
In the meantime, I've discovered that there's a restaurant in Columbus that gives you "just landed in Greece" vibes and flavors without you ever having to set foot on a plane.
King Gyros Greek restaurant in Whitehall is truly a treat for the eyes and palate. The restaurant is 100% Greek-owned, has been in business for 42 years, and is covered floor to ceiling (and outside, too) with gorgeous murals of Greek sights, images and scenery.
I had the pleasure of visiting King Gyros recently for a Yelp Elite event. I love being on the Yelp Elite Squad because I get to check out restaurants I might not otherwise find.
King Gyros is a perfect example – it's been here the entire time I've lived in Columbus, but I never knew about it until now. And it's a treasure!
As part of the Yelp event, I received a complimentary gyro Greek salad and drink. The King Gyros menu was diverse with abundant familiar and new-to-me Greek favorites, including many vegetarian selections.
I almost fell over when I saw the dessert menu and pastry case full of more kinds of baklava than I have ever even dreamed of. I purchased some of the old-fashioned baklava and it was incredible – possibly the best I've ever tasted, and I've eaten a lot of baklava over the years.
My Greek salad with gyro meat was also flavorful and filling, with generous portions of meat, toppings and homemade Greek dressing on the side. It also came with a warm pita on the side, which I used to sop up some of the remaining dressing. Delicious!
I enjoyed eating outside on the patio, where the painted murals all around and above me gave me plenty to look at. I also peeked my head into the inside dining room and it too was beautifully decorated.
In fact, the moment I saw the gorgeous murals all over the outside of the restaurant, I knew this would be a great meal. Any place that invests this much time and talent into the artwork adorning its building is for sure going to put a lot of heart and work into making sure its food is the best, too – and that is true at King Gyros.
I may not be able to visit Greece whenever I want to, but I love that there's a restaurant here in Columbus that makes you feel as if you were whisked away to the islands for a fabulous lunch or dinner. Who wouldn't want to experience that?
Have you tried King Gyros Greek restaurant in Whitehall, and did you love it as much as I did? I'd love to hear your thoughts in the comments below or over on Facebook or Instagram.