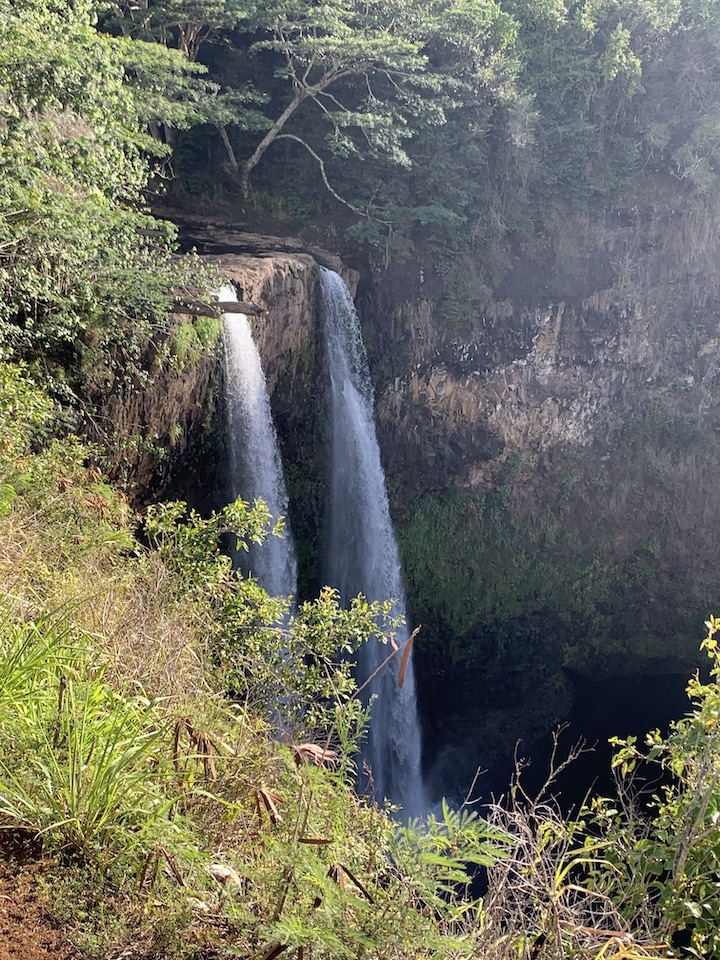 We visited two of the world's most gorgeous tropical destinations in 2022.
Trust me, I know how lucky I am. Not only did our family spend an incredible spring break in Costa Rica, but also Z and I got to live in Kauai for two whole weeks this summer.
Like how is this even my life?!
In some ways, I feel I earned this amazing travel year by toughing my way through 2020 and 2021, two challenging years with only one big trip between them.
I also may have manifested these vacations through the art of tattoo; after all, I spent all last year working on an amazing tropical paradise-inspired arm sleeve.
However this glorious year of exotic travel came to be, just know I'm grateful for it.
As I reflect back on both our 2022 trips to tropical paradises, I often find myself wondering which one I liked better. I mean, I LOVED both Costa Rica and Kauai, no question. But do I have a favorite? That's really hard to say. They are both amazing travel destinations for families, couples, groups or solo travelers.
The two destinations are actually so similar that I have a fun idea for a family slide show using photos from both our trips. I'll ask viewers to guess which place is in each photo. It would be a tough task as Costa Rica and Kauai definitely look and feel a lot alike!
Join me while I walk through some of my favorite things about Costa Rica and Kauai in an attempt to figure out which destination I loved most.
First, here are some great things Costa Rica and Kauai have in common:
Gorgeous scenery including mountains, rainforests, cliffs, waterfalls and beaches
Volcanos (ancient and dormant ones on Kauai; five active volcanos in Costa Rica)
Beautiful, friendly people with an incredible, rich culture
Great food and best-ever fresh pineapple
An amazing cultural philosophy or spirit (Pura Vida in Costa Rica; Aloha in Kauai)
Now, here are a few attributes that are unique to each place.
Unparalleled biodiversity including monkeys and sloths galore
Beautiful money (the perfect souvenir!)
Hot springs heated by volcanos
Only a 4.5-hour flight from Columbus
The excitement of being in another country and getting your passport stamped
Many unique-to-Hawaii things like kukui nuts, leis, luaus and more
World-class snorkeling
Chickens literally everywhere you look
It's an island in the middle of the Pacific ocean
The safety, security, infrastructure and comfort of being part of the United States (especially in light of my medical misadventures while traveling)
Even after laying all this out, it's still so hard to pick a favorite. Costa Rica is close and utterly captivating. Kauai is so far away, yet so worth it!
Ultimately, I think it comes down to how much vacation time you have. If you live in the Eastern US and have 10 days or longer, head to Kauai because you'll need at least a day on either end to adjust to the jet lag and time difference.
If you live in the Eastern US and have a week of vacation time or less, head to Costa Rica because it's close and there's not much time difference. Obviously, these recommendations would be flipped for folks who live in the Western US.
The bottom line, though, is that you will love visiting both places so much that you honestly can't go wrong either way. Both Costa Rica and Kauai will live in my heart (and on my arm!) forever. I truly hope to return to both places someday.