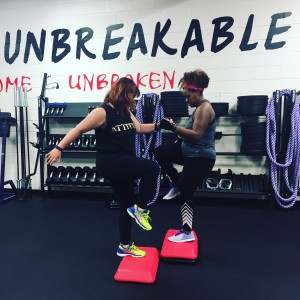 I'm delighted to report that I'm back at 100% with my workouts at Rock N Shock and I feel great. it's almost like my knee surgery never happened!
Actually, I've been working so hard this month that Master Breaker Danielle joked I should have surgery more often – she said she's never seen me work so hard! She asked me when I'm scheduling my next one.
All joking aside, I was a bit anxious about going back to RNS and I am SO HAPPY that everything is going well, I'm back at full steam with my workouts and I feel utterly fantastic.
At the start of April when I first returned to the gym, I was avoiding high-impact (jumping/ running) moves and also avoiding kneeling. Kneeling still doesn't feel great, but I can do it now – and I'm even running a little bit, albeit slowly and carefully. More proof that I'm truly back at full effort:  I've hit 100% in my last two workout classes!
I'm still being cautious, going to PT once a week and doing my best to work as hard as I can without causing myself any knee pain. I know it will take some more time before my knee is completely recovered from the surgery. But I will say that I'm glad I went back to RNS when I did – about six weeks out of surgery. I was definitely ready to work out and it's felt so good to get back into it!
Last week, Master Breaker rolled out some new workout class formats and I loved it. We usually do HITFIT classes that are a mix of strength and cardio – but last week she debuted all-strength HITFIT classes as well as all-cardio HITFIT classes. The shake-up was a good thing and I worked like I never had before! The sweat loss was unbelievable.
I can't wait to see what she'll hit us with this week… but I know that whatever it is, I'm up for the challenge and it'll be a fun fitness adventure!
When was the last time a workout truly rocked your world? You should come with me to a Saturday Q&A session at Rock N Shock to see if it's right for you!