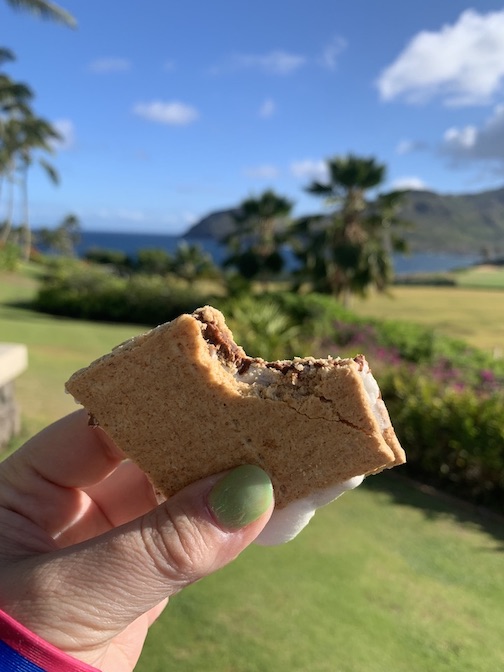 Sweet treats. Dessert. Cookies. Candy.
If the idea of eating s'mores by the pool in Hawaii makes you feel all warm and tingly, then this is the roundup post for you.
We love sweets around here. I've had a sweet tooth all my life; how else do you think I got this sweet?!
I used to fight my love of sugary treats, but since about 2021 I've simply accepted it as part of me. This happened naturally as part of my overall work to radically accept and love myself exactly as I am.
Sweets are about so much more than just a good taste in our mouths. Candy takes us to a happy place. Sweet treats can comfort us in times of sadness – or they can be part of a happy celebration.
For me, certain sweets conjure up the magic and nostalgia of childhood. Haribo gummies transport me back to the sunny days when my brother and I would ride our bikes into downtown Northport and spend all our allowance at the penny candy store in town.
English sweets like Maltesers and Turkish Delight takes me right back to childhood trips across the Atlantic to visit my grandparents and other relatives in England. Hello dolly bars (also known as Magic bars or 7-layer-bars) will always remind me of my Mommers, who baked them for me with pure love.
Even as an adult, I've developed nostalgic memories around sweets: for example, pie will always remind me of my sister-in-law, who makes the most incredible homemade fresh cherry and custard pies I've ever tasted.
Since I prefer writing about things I love, it only makes sense that I've blogged a ton about all things sugary. Here's a roundup of all our posts about sweet things:
That's probably enough sweet stuff for now. Let's all go drink some water, brush our teeth – and dream of the next delicious sweets we'll sample!
As always, if there are local or faraway places you think we should visit and review, do let me know in the comments below or over on Facebook or Instagram.